GUATEMALAN MAPS
TO LET YOU FOLLOW OUR ADVENTURES
---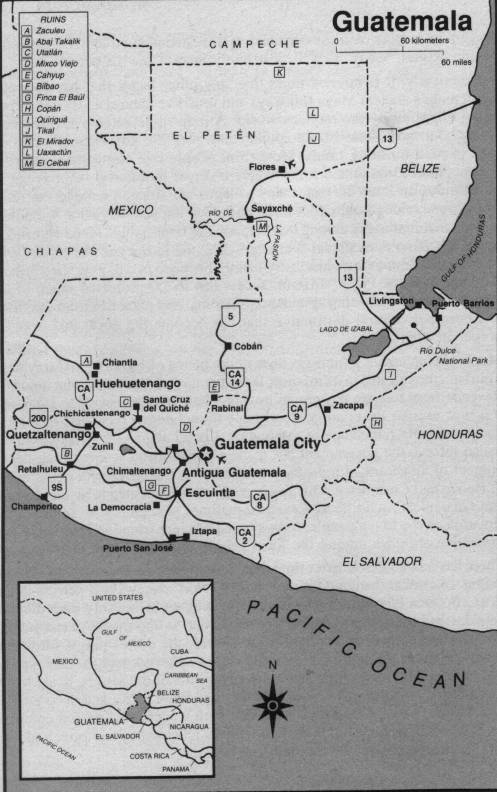 Guatemala is located between Mexico to the north and West, Belize and the Caribbean to the east, Honduras and El Salvador to the southeast, and the Pacific Ocean to the south.

---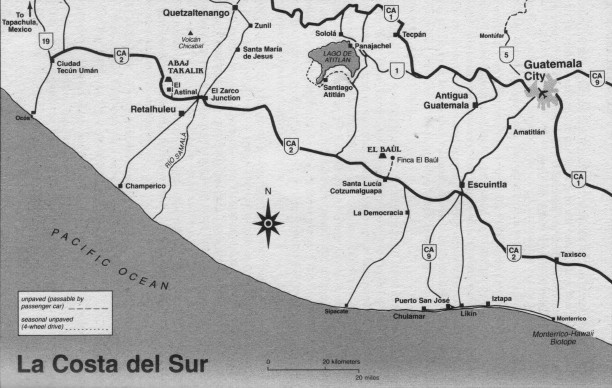 Notice Guatemala City (the capitol), and Antigua Guatemala (the old capitol, usually just called Antigua) to the west. There are 12 villages around Lake Atitlán, and the one with the resort we stayed at (Santa Cruz del Lago) is a 15-minute boat ride west of Panajachel. [See map, Episode #10, for more Atitlán detail.] South of Guatemala City through Esquintla, on the South Coast is Puerto San José. Go southeast from Esquintla, then south through Taxisco, and you come to Monterrico.

---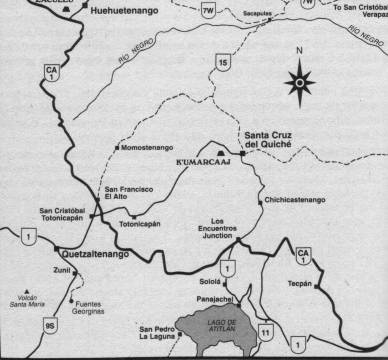 Go north from Panajachel and you come to Chichicastenango, with a large market area where good prices can be found on woven and embroideried fabric, blankets, and clothes, among other things.
Highway CA 1 is the Pan-American Highway through Guatemala, and runs from Mexico through Guatemala City into El Salvador.

---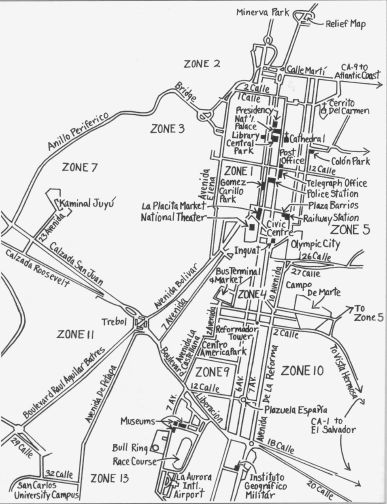 Guatemala City is a huge place, hard to reduce to a small map like this. There are hills and canyons, stream channels and forests; the topography produces "fingers" of city that don't show here. But notice Zone 10, Avenida de la Reforma separating Zone 10 from Zone 9, and 12th Calle shown in Zone 9. It extends through Zone 10. Move one block north to 11th Calle (south side), and five blocks east of Reforma, and there we are. Our church is between Reforma and 7th Ave on 12th Calle (north side) in Zone 9. In the lower right-hand corner where you see "18 Calle" and "to Vista Hermosa" being connected with "CA-1 to El Salvador", Colegio Maya is a little off the map on that road.
For further discussion, see Episode #4.

---
Return to HOME PAGE.