WELCOME TO GUATEMALA!
---
GETTING READY TO GO
Moving to another country is not easy. When you are as involved as we were it is even harder.

1) I had to resign my job at Cornell Pump Co. , where I have worked for the last 28-1/2 years, and have been the head Receiving Clerk for the past several. To aid in the transition I wrote an entire "How To" manual, detailing as best I could how to do my job. This turned out to be extremely useful, as the person I had trained to replace me got fired, and they had to find another person who was not able to start until after my last day on the job. Nobody wanted to see me go.

2) Debby had to resign her teaching position at Linkup, a school for home-schoolers in Oregon City, where she had taught music for five years, starting with a few kids and ending up with three bands and three orchestras as the program grew. She had also taught high-school Spanish, so they had to hire two new teachers to replace her. She was also the Registrar for the school, and had to train other people to take over that. Nobody wanted to see her go.

3) I had to leave the Oregon Zoo in Portland, where I had been a volunteer Animal Talker for 9 years, missing out on the new exhibit to open this fall. Nobody wanted to see Batman go.

4) I had to resign from the board of directors of Design Science Association, where I had been involved for several years. Nobody wanted to see me go.

5) Deb had to find and train a replacement director for Encore, the women's vocal ensemble she had led for the past three years. Nobody wanted to see her go.

6) The Oregon Symphonic Band, where Deb had been a percussionist for a number of years, lost its percussion section leader. Nobody wanted to see her go.

7) We have been "Grandma and Grandpa" for the past five years in the Clackamette Youth Ballet's annual production of The Nutcracker. The director was NOT PLEASED to see us go.

8) We had been involved at church with choir, drama, and Sunday School, and Deb was the piano player. Nobody wanted to see us go.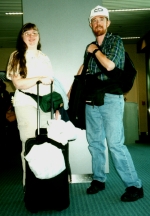 All Our Carry-ons
But the hardest part was leaving the house. We weren't selling it, we were just going to lease it out, but all of our stuff had to be packed away in storage or gotten rid of, except for what we were taking with us, and we had lived there for 24 years, all of our married life. Then our son moved home from Phoenix, so we left all the furniture in the house, and could just move our stuff into the attic, but the sorting process was mammoth, especially for me. So many papers and books, what do I want in Guatemala, what do I really not want to keep, what will I want when I eventually come home? (The commitment was for two years, but I expect we will stay longer, and who knows where we will go from here? There are a lot of international schools all over the world.)
And do we ship stuff down (how, with whom?) or only take what we can on the plane and buy everything else? After two garage sales and giving large quantities to Good Will and others, we still had a lot of stuff to sort. In the end, we wound up taking what we could on the plane, with another load coming down to Phoenix to meet us at Christmas time. From the experiences of other new teachers who shipped their stuff, we made the right choice. It took one poor soul over a month to get all her stuff, and it cost her a lot in import duties to get it.
---
Return to HOME PAGE.